[ci] Channel Insider is an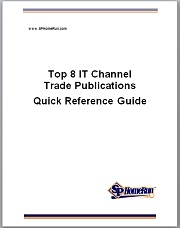 online magazine dedicated to VAR and channel partner news.
If you own or manage a computer consulting business, VAR, network integrator, IT solution provider, MSP, or a computer repair business, it is well worth you keeping your eye on this site.
Channel Insider provides an easy-to-use resource with a good mix of articles, white papers, videos, research papers, blog posts, and vendor reports. It has a newsletter that you can subscribe to. You can also subscribe to Channel Insider site content via RSS feed.
The main areas that Channel Insider covers are channel analysis, channel news, reviews, storage, solutions builder, SMB partnering, security, Microsoft, Cisco, Dell, HP, IBM, Intel, and Linux/Unix. Ziff Davis also has other publications that you may want to explore including one that focuses purely on Microsoft and another that focuses purely on Google. You can find a full listing of links to their other titles right at the bottom of every Web page.
The Channel Insider commentary section is of particular interest on this site because it covers a wide variety of topics and provides a great deal of useful insight. Also, check out the video archive.
Positives:
High quality content

Wide variety of topics

Timely information
Negatives:
Lacking variety in media types
Do you read or subscribe to Channel Insider? If so, how does this IT channel publication publication benefit you? What could it improve on? Please let us know your thoughts in the Comments below.