Nerd Force is a computer franchise opportunity that focuses on setting your business up to provide managed services, on-site computer services, and technical consultancy to small- and medium-sized businesses in the USA and internationally.
Territories and Startup Fees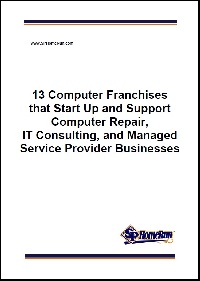 The territory you operate as a Nerd Force franchise owner is defined by population size. The current criteria are 60,000 people and 2,000 businesses.
The franchise term is five years, after which you have the right to renew. The Nerd Force franchise fee is currently $16,000. The company suggests you will need a total of $29,100–$58,000 to cover start-up costs (local currency equivalents apply to all figures quoted).
Requirements
Liquid assets of approximately $13,000 and a total net worth in excess of $40,000 are required.
You do not need a background in IT to take on this computer franchise, but you must be able to hire and manage a team with the necessary certifications. You do need a solid background in business and familiarity with marketing and sales.
Ongoing Costs
Nerd Force has no restrictions on the services you can offer, so your income streams can be multiple and diverse. Ongoing fees due to Nerd Force, including advertising fees, are based on a flat fee that commences 6 months after your business launches:
Year one: $500/month

Year two: $650/month

Year three: $800/month

Year four: $950/month

Year five: $1,100/month
For More Information
Nerd Force
97 New Dorp Plaza
Staten Island, New York 10306
+1 800-979-6373
http://www.nerdforcefranchise.com/
Do you own a Nerd Force franchise location? And if so, what is the organization especially good at? Where is there room for improvement? Please share your thoughts in the Comments below.