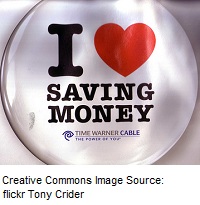 While there are some business models in the IT services space that do legitimately require a second mortgage on your home, massive credit card debt, or huge leaps of faith from angel investors, starting a computer company does not need to be financial risky.
Of course, if you plan to open a 10,000-square-foot data center colocation facility, all bets are off. If you plan on opening a retail computer super-store that will go head-to-head with Best Buy, there are really no low-capital options.
But for most would-be IT entrepreneurs with much more modest goals in starting a computer company, here are three very simple ways to save money and conserve your cash:
Very tightly define what your target market is. "Small business" is way too vague and subject to interpretation. Vague plans waste money. Many owners of IT start-ups, who are too busy, too clueless, or too arrogant, waste a ton of money because they don't have a coherent, well-thought-out marketing plan. If you want to stretch your startup dollars, you'd better know exactly who your target audience is. At the minimum, you need to know geographic parameters, size parameters (employees and revenue), and industry parameters. For most people starting a computer company, this target market definition should be short enough to fit on either an index card or Post-it note.

Learn the difference between branding and lead generation. Because IT startups often emulate the marketing campaigns of 800-pound gorillas, these IT startups often end up wasting a fortune on "branding" campaigns, without any tangible results. To stretch your start-up dollars, focus instead on lead generation campaigns in which you have something tangible to measure, such as registrations for a webinar, white paper, consultation, or needs analysis. You need to be able to say something along the lines of, "I spent $400 on this campaign and got 12 online forms completed, of which 8 were quailed leads." That way you have something to work with.

Make friends with non-competing influencers who already have your target market as their clients. Accountants, attorneys, management consultants, and graphic designers…these are all local trusted business advisors who in most cases don't compete with your firm. Most of these trusted business advisors are constantly asked for referrals to other firms and professionals. Why shouldn't your new computer company be on that list?!? Especially when starting a computer company, regularly go out to networking events, make some good, old-fashioned eye contact, shake some hands, engage in sincere conversations, and build those relationships.
In this post, we looked at how you can save money when starting a computer company and still build a high-quality client base. The next time you're confronted with a decision about plunking down a big wad of cash or just working a little bit smarter, remember these three tips.
What have you done when starting a computer company to make your money go further? Got an idea for #4 on this list? Please share your tips, hints, and war stories in the Comments section below.
Creative Commons Image Source: flickr Tony Crider