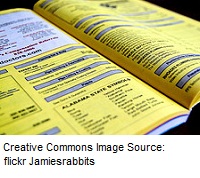 While it may be hard to believe, computer service companies can still draw local business from computer repair ads in the Yellow Pages. However, an ineffective ad won't do you much good. It can also be a waste of time and money.
So take the time to design a powerful computer repair ad as part of your computer business marketing plan. Be sure to avoid these five common mistakes:
No headline - Your ad needs a distinct headline that communicates the specific problem your company solves, or your company's unique personality. Many ads are so cluttered with info that the headline doesn't stand out. Your headline is often your first—and only—chance to make your company stand out and generate excitement about your service. So write a strong headline and make it stand out visually. And most of all make sure that your headline promises a solution to a problem.

No clear location for the company – A phone number and a website address is not sufficient information for effective marketing. Provide multiple points of contact, along with a street address. Also be sure to clarify your service area. (Editor's Note: If you work from home, there's no need to list your home address or a postal box in a supermarket strip mall. For around $100 per month, or your local currency equivalent, you can usually lease a virtual office address in a respectable commercial office building.)


Lack of a market focus – Are you targeting home or business users (B2C or B2B)? Even if you service both, computer repair ads need to show that you understand each target audience's specific needs. If you must address both in one ad, segment the ad and clearly address each target audience separately.

Getting too technical – Small business owners don't have time to learn the details of your business. You'll have more success in your computer business marketing overall once you learn to this lesson.

Focusing on features instead of benefits – Frame your list of services in terms of benefits to the client. Compare "quick on-site service" to "get your systems up and running with minimum down time."
Computer business marketing is like all business marketing—you must consider your ads from the client's point of view. Computer repair ads should make a client excited about the benefits your business has to offer. If you've had success with certain ad content, please share your experience in the COMMENTS section below here.
And to follow-through on the tips introduced in this short post, download your free special report on the Top 10 IT Marketing Strategies for Consistently Attracting New Business Clients to Your Small IT Business.
Creative Commons Image Source: flickr Jamiesrabbits