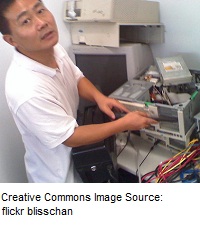 A computer repair franchise lets you jumpstart your business – in theory. The idea is to hit the ground running using an already established and effective business model. You also use somebody else's marketing resources for generating leads and business, instead of putting yourself through the school of hard knocks.
However, a computer repair franchise still requires you to invest energy, time, and money if you want it to be successful. So it's crucial to know what your chances are of making a franchise work by asking at least four tough questions:
A computer repair franchise succeeds through hard work as much as through any miraculous business model. If you've considered running or now run a franchise like this, share your comments on how to make a success of it in the COMMENTS section.
And to follow-through on the questions introduced in this short post, download your free quick reference guide to the 13 Computer Franchises that Start Up and Support Computer Repair, IT Consulting, and Managed Service Provider Businesses.
Creative Commons Image Source: flickr blisschan