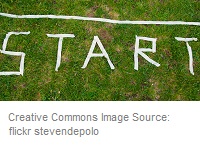 A few weeks ago, we came across an interesting question on LinkedIn Answers about the most important five or ten areas to focus on looking at how to start an IT company.
The question was posed by Sudip Das, an online business promotion expert at Zoom Technosoft. Being that the company's website wasn't live at the time of writing this post, all we could go on was the company's LinkedIn profile and Facebook business page "about us" information.
Start-Up IT Company vs. Start-Up Online Marketing Agency
A business student in Denmark, Henrik Poulsen, began by asking for clarification on the nature of Zoom Technosoft's business, before addressing how to start an IT company.
Over at SP Home Run, we had the exact same question and found Zoom Technosoft has more of a planned focus on online marketing and web development, rather than the more frequently-encountered VAR or MSP business model one typically associates with that of a start-up IT company.
Most of Poulsen's advice focused on creating offers to demystify and legitimize the nature of the SEO services that Zoom Technosoft plans to offer its customers. Poulsen also recommended building a team of freelancers, creating an impressive online profile, investing heavily in its own website design and SEO, and setting realistic prices from the outset, rather than chasing after bargain shoppers.
Minding Your Social Media Manners on LinkedIn Answers
Following Poulsen's well-thought-out answers, the next three out of four people who answered chimed in with very terse advice, adding relatively little value to the question at hand (how to start an IT company), mostly trying to drive traffic back to their own websites. Bad approach.
The flip side though: it's hard to argue with the merits of some of these terse answers: cash flow and revenue are both extremely important considerations. It's just that these oversimplifications don't give the question asker much to go on.
One of SP Home Run's expert bloggers on social media, Kittie Walker, has written a few posts on the dos and don'ts of these situations (balancing social media participation with the need for some tactful self-promotion). In particular, see:
Importance of a Business Plan
Kenneth Larson, a retired procurement manager from the aerospace industry, who now volunteers with MicroMentor and consults with small businesses on government contracting, pounded the virtual table pretty hard about the value of a business plan.
We agree. Business plans are very important planning tools, even if you're not seeking outside funding because business plans force you to think through issues that you wouldn't ordinarily consider in the day-to-day hustle and bustle of running a small business.
Larson also linked to resources from SBA.gov and Bplans.com, of which both websites are widely regarded as authorities on writing business plans.
What SP Home Run Recommend for How to Start an IT Company
Now that you know how others approached this question, here's our answer:
We first clarified that because "IT company" can mean so many different things, with regards to business models and target markets, we started out by visiting the LinkedIn company profile attached to Sudip Das's personal profile. However, a few days later, on returning, while the Zoom Technosoft company profile was still present, the company website no longer appeared to be live.
That said, here are our top six recommendations for prioritizing (the "top 5" list, plus a bonus):
Pinpoint the target market and nail down how you plan to reach that target market.

Recruit the team of employees and/or freelancers (freelancers may be better at the outset, depending on available capital) who will help deliver the services advertised.

Plan out how you'll create, with laser accuracy, awareness among decision makers who are the most likely potential clients. Basic Lead Generation 101.

Invest in lead nurturing and follow-up campaigns and activities that convert qualified leads into paying clients. In the context of how to start an IT company, this would likely include offers such as webinars, need analysis consultations, ebooks, blog posts, and newsletters.

Deliver awesome service and indisputable value to your clients, as if your company's survival depends on it. (Hint: It does!) Make 100% client retention your mantra.

(Bonus) Network with potential partners, especially other IT companies and trusted business advisors, who have the ability to refer your firm to their existing clients.
What would you advise Sudip Das of Zoom Technosoft to focus on? Got an idea for #7? Please share your thoughts on how to start an IT company in the comments section below.
And to continue learning more, download your free copy of the special report on How to Start a Computer Consulting Business: 6 Proven Ways to Build Your Initial Client Base.
Creative Commons Image Source: flickr stevendepolo