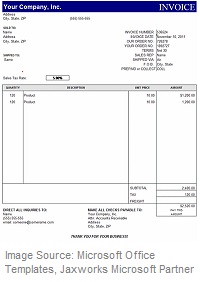 Following on from my previous article [Computer Repair Invoice – What to Include for Your Clients], it struck me that you may not have the time to create a professional invoice when you are starting up your new IT business. So, here is a free computer repair invoice template or two from around the web to give you a head start:
Fair Use Declaration
Editor's Note: The invoice template screen shots discussed below are reprinted under the copyright doctrine of fair use, also known as fair dealing, and are presented strictly for the editorial purposes of commentary, criticism, and teaching.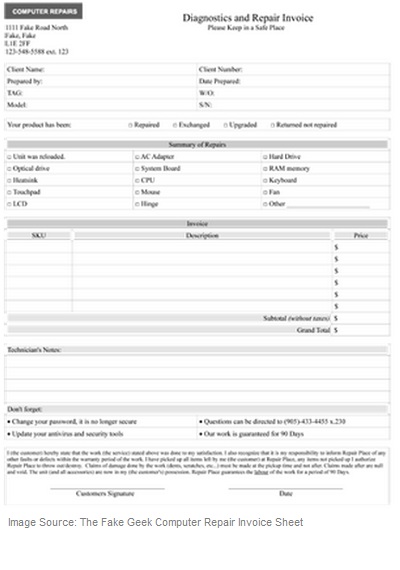 Personalize
You can start to use the above templates almost immediately. Just don't forget to personalize them as much as possible first:
Add your company logo.

Change the fonts to fall in line with your corporate identity.

Use your color pallet to emphasize your branding.

Use a summary of repairs section to make it easy for your customers to recognize which service or products that they are being asked to pay for.

Add value by giving away free useful advice.

Use accessible language. Make sure the invoice is in plain English and phrased with terms that customers will understand.
The more value that you add to every touch point with your clients, the better your trust levels and reputation will be.
My personal favorite of the three invoices above is the one from Fake Geek. I think that you can use it as the basis for a great invoice that will resonate well with your marketplace. So get creative!
Do you use a special computer repair invoice template? If so, why not share it with us in the Comments section below. We'd love to see how you delight your clients.
And to follow-through on the tips introduced in this short article, be sure to download your free copy of the special report on How to Start a Computer Consulting Business: 6 Proven Ways to Build Your Initial Client Base.
Image Source: Microsoft Office Templates, Jaxworks Microsoft Partner
Related Article: Producing a Computer Invoice Template – What to Include