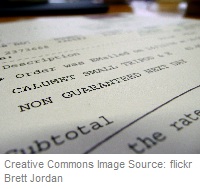 Does you company hold a steadily growing collection of computer repair forms, with one for each completed job?
If not, this is one piece of documentation you really shouldn't be doing without. Here are three simple reasons why completing computer repair forms should be standard practice for any business maintaining PCs.
Maintaining an audit trail. Assuming that you want your business to grow, you will eventually reach the point where many computers pass through your doors, probably with various technicians working on them. Without maintaining computer repair forms, you'll never be able to accurately look back and track who has done what—which will become extremely important if mistakes are ever made.



Ensuring accurate billing. In the event of a billing query, you really need to be able to show a customer exactly what work you carried out and how long it took. If a customer disputes an invoice, it can be very hard to argue your case without proper documentation.

Spotting trends. A collection of historical computer repair forms can create a rich source of analytical information. For example, you can track the most common problems, refer back to past solutions when issues reoccur, and see exactly how your company's revenue is being earned.
Do you use computer repair forms within your IT business? Share your views in the Comments box below.
And to follow-through on the tips introduced in this short article, be sure to download your free copy of the special report on How to Start a Computer Consulting Business: 6 Proven Ways to Build Your Initial Client Base.
Creative Commons Image Source: flickr Brett Jordan