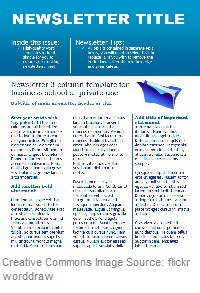 If your company is like most in the business of on-site computer repair, you're always looking to find more long-term, steady clients.
While there are a number of ways to turn more of your leads into clients, for this article we're going to focus on an extremely simple, zero-cost marketing strategy that you can implement today.
Build a Profile on Your Qualified Leads Within Your CRM System
As you look to transform your qualified leads into paying clients, you'll likely need to do some homework to understand their company's background, what they do for their company, and their business and IT pain points.
Some of this background you can get from simply reading their website or their blog, or visiting their LinkedIn company profile or Facebook page, for example.
Get More Mileage from Your E-Mail Newsletter
However, an often-overlooked source of information comes from when you send e-mail.
Of course it goes without saying that you should only be sending targeted e-mails to those who've specifically requested this kind of contact, such as subscribers to your company's e-mail newsletter. Wait, you don't have a company newsletter for your on-site computer repair company? You have no idea what you're missing out on.
But let's assume you have a well-established company e-mail newsletter that educates your leads and subtly promotes your on-site computer repair.
And if you do your marketing job properly, most of your leads, customers, clients, and vendors are subscribers.
Start Reading the Out-of-Office Messages
Now what happens when you send out your newsletter issue to those subscribers that may be out of the office for various reasons?
You just hit the lead nurturing jackpot for gaining additional insight into a small percentage of your subscribers. Why?
Many of these subscribers have out-of-the-office notification e-mails that can provide you with very valuable information that should be immediately logged into your CRM system.
Let's say Bob Jones signed up for your e-mail newsletter using his Gmail e-mail address. So you unfortunately know virtually nothing about Bob. But when Bob goes on vacation, he configures his company e-mail account to send back an out-of-the-office message. And since Bob normally has his Gmail automatically forwarding to his company e-mail account, your newsletter gets back the vacation auto-response.
Mine These Nuggets
This out-of-the-office message tells you:
a) Bob's real email address
b) Bob's employer
c) Bob's full contact information
d) The days Bob will be out of the office
e) Who's covering for Bob while he's out of the office
f) Where he went on vacation (sometimes)
While this information certainly shouldn't be abused, it should at the same time be noted carefully in your CRM system. Why? Because as Bob progresses through your sales cycle for on-site computer repair, these notes can be incredibly valuable for turning more leads into steady clients.
What's your favorite way to turn leads into clients for on-site computer repair? What kinds of intelligence-gathering do you do for your most highly-qualified leads? Please share your tips in the Comments section below.
And to follow-through on the tips introduced in this short article, be sure to download your free copy of the special report on 7 IT Sales Secrets for Attracting High-Lifetime-Value Clients.
Creative Commons Image Source: flickr worddraw