If you're new to consulting sales, you may be thinking that you need a good, systematic way of reaching the right decision makers. And you'd be half right.
But when selling consulting services, you've got to realize that small business decision makers are vastly different than Fortune 1000 decision makers.
And while small businesses almost always have much smaller budgets than their Fortune 1000 brethren, selling to the small guy has plenty of advantages.
In this post, we'll look at what you need to know to get started with IT-centric consulting sales:
Accept that Defining a "Small Business" is an Imperfect Science
Now, the definition of a small business varies considerably depending on the source.
The U.S. Small Business Administration (SBA) actually has size standards by industry.
Wikipedia comes right out and admits the challenge, "What constitutes a small business varies widely around the world."
And a recent article on Forbes, How Big Is A "Small" Business? Here's Why It Matters, directly attacks the tremendous disagreements on what a small business actually is.
Pinpoint the Motivations and Timeframes
Small businesses never look to implement technology for technology's sake.
In other words, a Fortune 1000 IT department may invest millions annually in developing the next-generation trading platform, telecommunications network, social media community, or mobile app.
But a small business, in sharp contrast, is always looking for a simple, rapid deployment and an immediate return on investment (ROI).
Differentiate Between the Decision Making Processes
When selling consulting, the small business decision maker may be an owner, CFO, office manager, IT coordinator, or even a family member who only dabbles in the business part-time.
The small business sales cycle often is a fraction of the time required to close a Fortune 1000 sale.
Small businesses generally also have no layers of bureaucracy or political undercurrents.
Sell the Whole Puzzle, Not Just a Piece or Two
Small businesses don't have the luxury of sending staff out for weeks of IT training, just to keep up with releases. Small business owners and managers must focus their energies on running their businesses, not learning about mobile device management or CRM APIs.
Small business decision makers hire your company to be their single point of contact for a particular category of problems – often management consulting, IT consulting, or something similar.
Your small business clients generally have no desire to get involved in troubleshooting and have even less tolerance for finger pointing. They need you to shield them from the complex technology issues, while showing them how to use your solution to tackle their immediate business problems.
In a perfect world, the small business owner or manager would want a single-box, single-vendor solution. In other words, small business decision makers often wish they could buy IT in the way they buy other commodities. That's the reason why, at least on the surface, managed services and cloud computing tend to be so appealing when selling to small businesses.
Fold these pain points and aspirations into your consulting sales pitch and you'll be well on your way to building a solid client base.
What have you found to be most important for consulting sales to small business decision makers? And what's different than selling to Fortune 1000 accounts? Please share your thoughts in the Comments box below.
And to follow-through on the tips introduced in this short article, be sure to download your free copy of the special report on 7 IT Sales Secrets for Attracting High-Lifetime-Value Clients.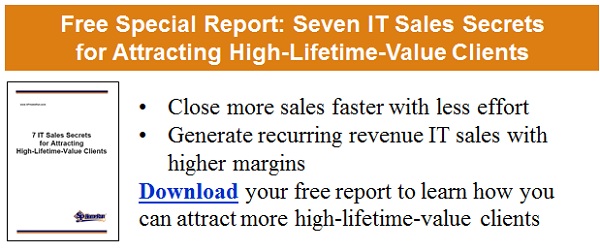 Creative Commons Image Source: flickr rafa_luque