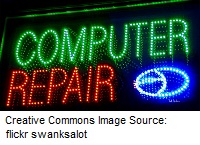 If you are starting a computer business and have already set up a website for your new business, then you are ready to begin making a presence on the web so customers in your local region can find you. There are so many marketing activities that need to be done in order to drive revenue when starting a computer business; however, listing with the major local websites is critical to developing the right foundation for an online presence for long-term success.
Register with the Best Local Websites
Google Places - Google Places is a service integrated with Google maps service and is critical for appearing in local searches in the natural search rankings. Take the time to fill out the categories correctly and input your website. Google Places is the best local pages site to list with.

Yahoo! Local - Yahoo! Local is a good local business directory to be included in and can assist with the SEO value of a website since Yahoo Local tends to get crawled by search engines as well, and other services also use its data for building lists of local businesses.

Yelp - Yelp is an oft-used business directory website that is a popular destination for consumers to check a business's reputation. It is important to actively manage a Yelp account to keep it up-to-date and encourage good customers to the site to write a review.
Ask Satisfied Clients to Post Reviews
After setting up accounts with these local business directory services when starting a computer business, it is important to then encourage the earliest clients to visit the pages and leave positive comments and favorable ratings. This promotes a positive image for the company to prospective customers and also taps into limited social media marketing when customers make comments when using their Facebook accounts for Yelp or Google Plus accounts for Google Places.
When starting your computer repair business, where did you register your new website? And which registration delivered the best marketing results? Please let us know in the Comments area below.
Creative Commons Image Source: flickr swanksalot