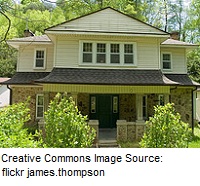 Starting a computer repair business from your own home can be a great way to grow the hobby of tinkering and working on computers into a viable business. There are computers in almost every home these days; with computers, come computer problems that need to be solved.
Establishing a network of clients in a local region can be done by someone starting a computer repair business in his or her home simply using introductions through friends and family. When operating a business from your own home, it is essential to dedicate space in the house for the business, for both working on repairing the computers and also handling management aspects of the business.
Establish a Dedicated Computer Repair Area
In order to operate as a proper business, it is important that a specific location be dedicated for the computer repair portion of the business. While it is one thing to work on your own machines, starting to work on client machines requires an additional level of care to ensure all repairs are done properly.
Dedicate two locations in your work area for placing all new work projects and all completed work projects ready to go back to customers. You may already have an existing work bench with all of your tools and equipment in a specific room in the house. You only need to set up additional shelving and labeling for keeping track of each customer's property.
Designate an "Office" for the Business
When starting a computer repair business from the home, it is easy to just use your existing office or computer work station for most business activities.
Whether it is basic accounting and financial recording, or preparing and executing marketing strategies, at the beginning a large office space is not essential. It is recommended, however, that you at least get a large file cabinet or a couple file boxes with hanging folders, so it is easy to manage all paperwork related to the business.
Even if these are just simple invoices and expenses when first starting out, it is good to be in the habit of tracking and recording all financial activities related to the business and keeping them together and organized. You will need this organized, written documentation to support any tax filings that you do related to the business.
In this short post, we looked at two very important tasks to accomplish when starting a computer repair business from your own home.
Where are you in this process? Please share your tips, hints, and war stories in the Comments area below.
And to follow-through on the tips introduced in this short article, be sure to download your free copy of the special report on How to Start a Computer Consulting Business: 6 Proven Ways to Build Your Initial Client Base.

Editors' Note: Since some municipalities and homeowners associations make it a career to interfere with home-based businesses, even those with zero traffic, you should discreetly investigate these issues before getting too far along.
Creative Commons Image Source: flickr james.thompson