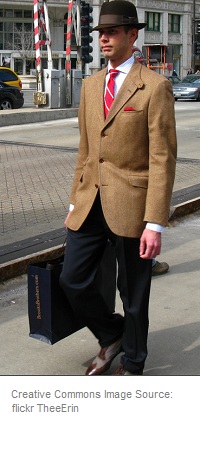 Are you just starting out as an IT consultant? In order to gain the confidence of the small business owners in your local area, try setting yourself up as a true IT professional rather than a repair technician.
Professional Services
Think along the lines of an accountant or attorney for a small business.
How do they operate? How do they dress? What do they drive to their appointments?
You want to be taken seriously as a true professional, don't you?
Now, I'm not saying you should don a three-piece suit to install cabling, but if you're going on a sales call, present your business as another trusted advisor for your prospect's small business. Picture the opposite of driving up in a panel van wearing overalls!
You're Selling Your Time
Learn all you can about time management. Keep records and time sheets so that you can bill clients properly and in a timely manner.
Clients expect their professional service providers to bill them as projects are completed, not in three or six months because they forgot.
Remember, you're learning how to become an IT professional, so act accordingly.
Target, Target, Target
It bears repeating!
Target your marketing efforts to the small business arena. These are the prospects that use professional service providers on a regular ongoing basis and are willing and able to pay.
Don't go after the home user market if you're learning how to become an IT professional.
Small businesses have urgency that home users do not.
The Bottom Line
To steal a line from the hit show Seinfeld: "Not that there's anything wrong with that"…there's nothing wrong with being a computer repair technician or cable installation technician.
But if you're learning how to become an IT professional, you have to look to other professional service providers and mimic their business practices.
Have you set your IT service business up more like a professional services firm? Do you think this changes the way your prospects and customers perceive you? Please share your thoughts in the Comments box below.
And to follow-through on the tips introduced in this short article, be sure to download your free copy of the special report on How to Start a Computer Consulting Business: 6 Proven Ways to Build Your Initial Client Base.
Creative Commons Image Source: flickr TheeErin