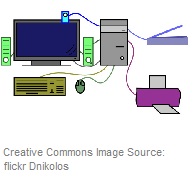 Rich McElaney is an Inbound Marketing Specialist based in Annapolis, MD. He's the Principal at brassCycle and one of HubSpot's value-added resellers.
I had a long conversation with Rich last week, and I thought it might be useful to share that conversation with you. We discussed why he decided to become a value-added reseller and how it has affected his business.
Noticing a Product That Will Benefit Your Clients
In 2008, it became clear to Rich that something needed to be done about an increasingly complex issue in his marketplace, one that still exists today in most marketplaces! Many companies use disparate systems to run different processes, which leads to a great deal of inefficiency and fragmentation within the company. This negatively affects marketing, sales, and customer care.
Around the same time, he noticed that companies like Eloqua and Marketo were bringing products to the market that could help his clients to negate some of the issues caused by this disparity. He also stumbled upon HubSpot, who were participating at a conference he attended in Boston.
Take away – you need to know what your client's pain points are and then find products that will ease them.
Doing Your Research to Pick the Right Partner
As a veteran marketer, Rich was keenly aware that you need to keep your target market in mind when making strategic decisions about your business, and this includes when you are going to collaborate with another firm in this way.
He did his research into all the options available, comparing the pros and cons of each and of course the pricing. He concluded that Hubspot was best placed to serve his target audience. Both Marketo and Eloqua had great products, but they better served the midmarket to enterprise-level client.
Take away – research, research, research, and make a considered decision based on your target market.
It's Not Just About Selling Your Value-Added Reseller's Product
Rich points out quite rightly that you should be promoting your consulting business primarily and not the product.
You should keep your business vendor neutral as much as possible because one solution will not be a fit for every client's needs. You can only maximize your sales and customer satisfaction levels by offering and delivering the appropriate solutions.
It's important to understand how to consult with your clients. You need to focus your initial client meetings tightly to find out what their primary issue is. Once you understand this, you can sell them a small starter project.
This will give you a better view of their business and provide you with the opportunity to understand their needs better. By doing this, you'll position your business to be able to offer your expertise on a robust solution tailored for their business. This may or may not include your value-added reseller product.
Take away – build new client relationships slowly. Offer an initial proving ground project giving you the opportunity to learn about the client's business and let the client get to know you.
A Final Word of Wisdom
The single most important piece of advice for new value-added resellers from Rich is to test-drive the solutions that you are going to offer. Buy the smallest version of the solution, if necessary; use it for your business.
This will not only provide you with your first case study, but it will help you to relate to your clients better as you roll out the solution for them.
Hopefully these insights from Rich McElaney will help you to kick-start your search for the right products to offer to your marketplace as a value-added reseller.
How have you found your search so far and do you have any concerns about the process? Share your thoughts with us in the Comments section.
And to follow-through on the tips introduced in this short article, be sure to download your free copy of the special report on How to Start a Computer Consulting Business: 6 Proven Ways to Build Your Initial Client Base.
Creative Commons Image Source: flickr Dnikolos